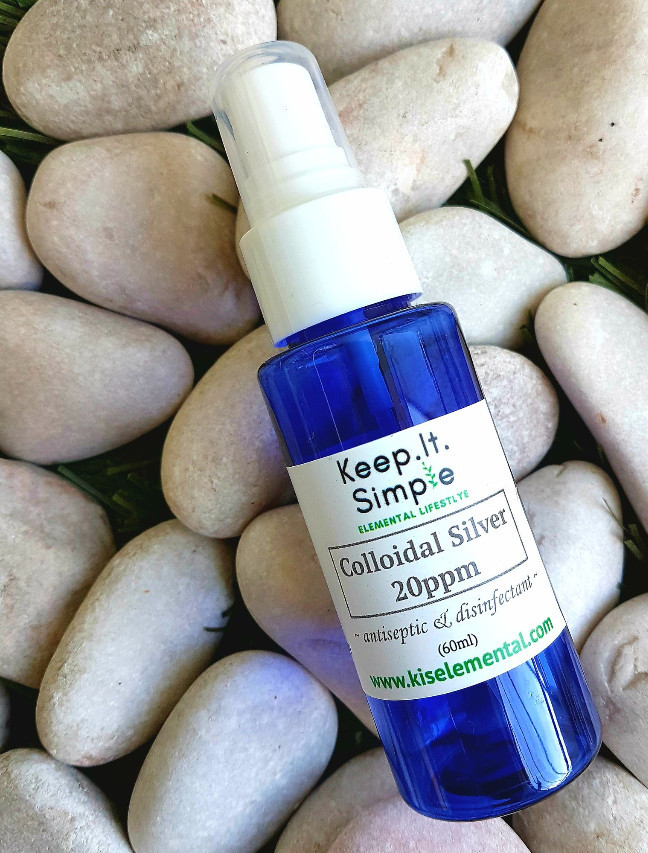 Colloidal Silver 20ppm (60ml)
20ppm pure Colloidal Silver made from 99.99% pure Silver. Colloidal silver is anti-viral, anti-fungal and anti-bacterial, thus it has a myriad of uses as a skincare companion.
Use it for: Acne, Cuts, Grazes, Burns, Dandruff, Itchy Scalp, ringworm, boils, herpes sores, fungal infections and warts. Colloidal Silver does not sting and has powerful antiseptic, disinfectant and germicidal properties.
Ingredients: 20ppm Pure Colloidal Silver and Distilled Water.
Directions: Spray onto skin or surfaces to quickly disinfect. For pimples, acne, minor cuts and burns, spray onto affected area 2 - 3 times a day until skin has healed. Use only when needed so as to preserve your skin's natural microbiome that is important for healthy skin.
Tip: Keep it handy (at home and when traveling) in case to clean and treats minor cuts and burns quickly. Also useful to quickly disinfect hands and surfaces when required, just spray and wipe! Suitable for use on kids as well!
Disclaimer: We firmly believe that the basis of healthy skin has more to do with what we eat, think, feel and do! When we put in the effort to consciously eat healthy, live healthy, think healthy & feel healthy, our skin becomes effortlessly radiant and beautiful!
Our skin is an amazingly complicated and complex organ, and together with its healthy & balanced microbiome, is independently able to keep itself healthy and balanced in most circumstances. Thus, as long as we are doing our part in our health department, our externally applied skincare should be minimal, fresh and most importantly, minimize harm to and support our skin and its microbiome as much as possible.
At K.I.S Elemental, we are proud to say that this forms the basis of all our skincare products and formulations!
Customer comments
| Author/Date | Rating | Comment |
| --- | --- | --- |
---