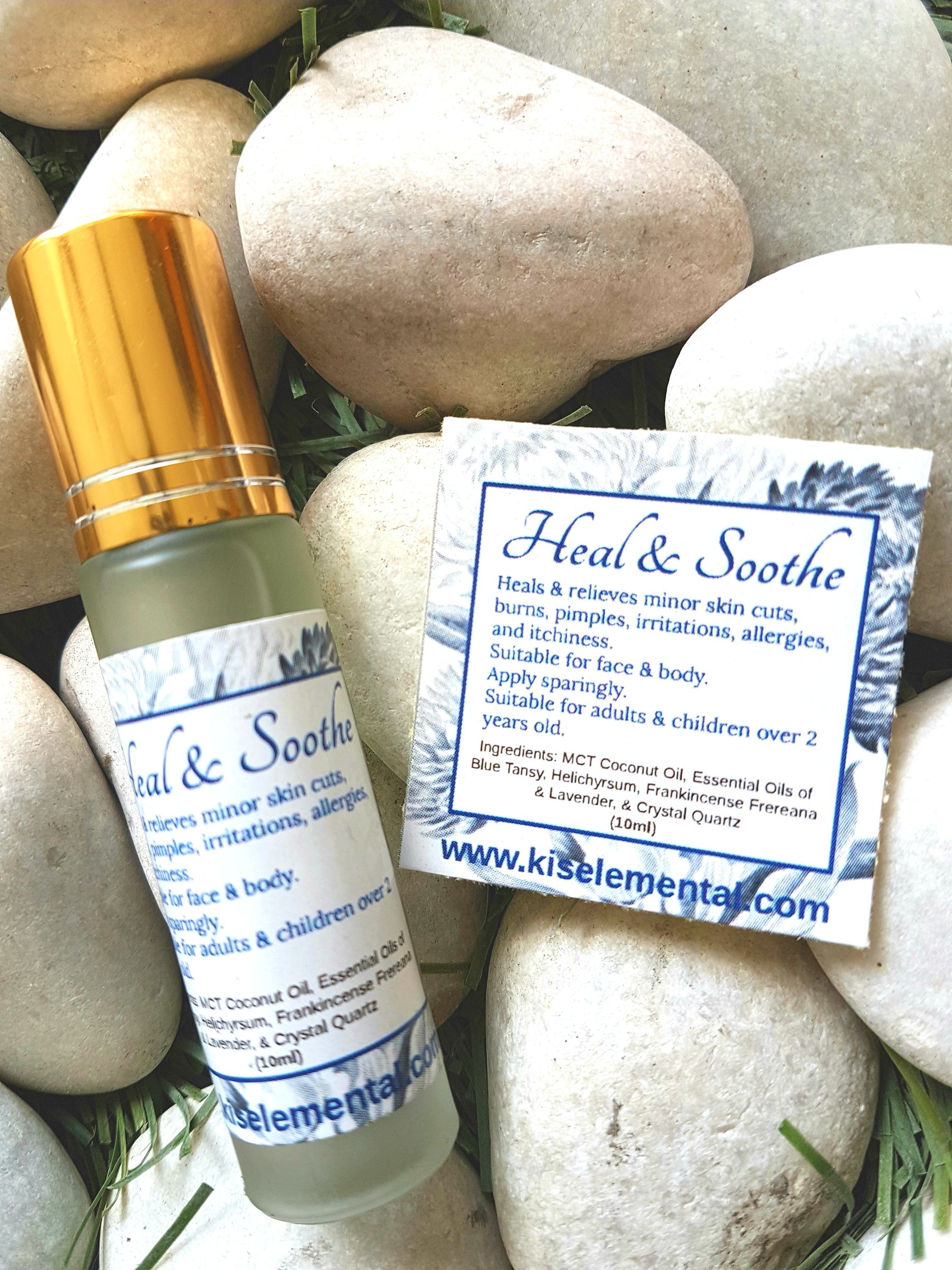 Heal & Soothe (10ml)
This is the most handy oil to keep near, especially if you or your kids have skin allergies or suffer from redness and itchiness frequently. It is also useful to reduce scarring and help acne heal faster.
It contains a soothing, anti-inflammatory and anti-histamine blend of Organic Lavender, Organic Frankincense Frereana, Blue Tansy and Helichrysum essential oils that promises to quickly calm down allergic skin reactions and irritations on the face as well as anywhere else on the body. It is useful to help minor cuts and burns heal faster and scar less.
It's aroma is deeply calming and floral and is capable of soothing your nerves to help you sleep easier. The concentration of essential oils in this blend is 7% and all essential oils used in this blend are kid friendly. The high concentration of essential oils make this blend very potent so only use a little at a time, especially on young children. Crystal clear quartz is added to enhance this blends' healing properties.
This oil has a light green tint to it due to the combination of naturally rich blue colour of the Blue Tansy essential oil with the other essential oils used. We never use artificial colouring or fragrances!
Ingredients: Pure Food grade MCT Oil, Organic Lavender, Organic Frankincense Frereana, Helichrysum Italicum and Blue Tansy Essential Oils, Clear Quartz Crystals.
Directions: Dab onto areas of skin that are red and or itchy or suffer from allergic reactions. Use sparingly but frequently when needed. Can also be used on the face to reduce redness spots and to reduce scars.
Note: Avoid direct eye contact. Keep in a cool, dry place avoiding direct sunlight and heat.
Customer comments
| Author/Date | Rating | Comment |
| --- | --- | --- |
---