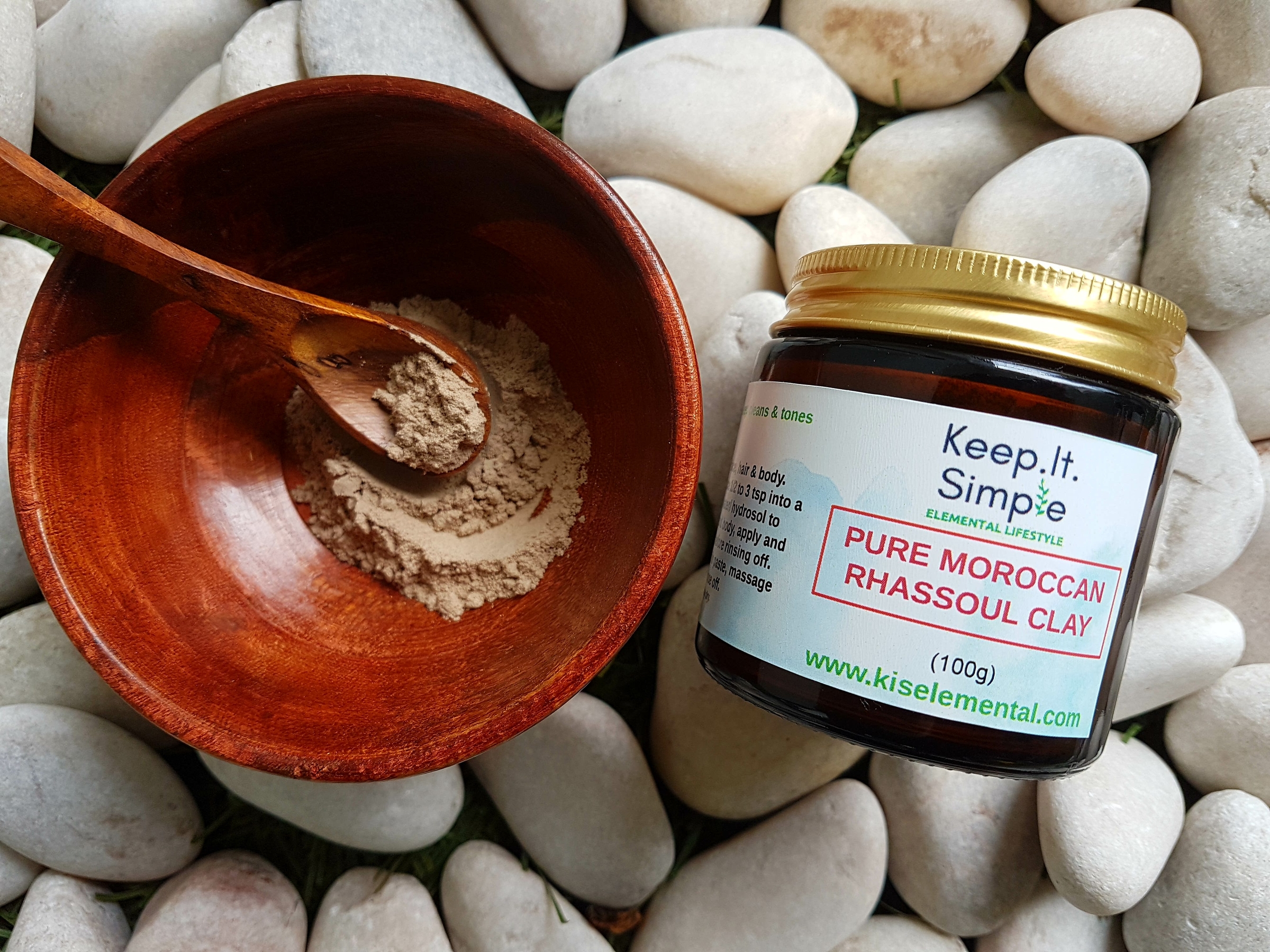 Morrocan Rhassoul Clay (100g)
*wooden bowl and spoon not included and is sold seperately!
Rhassoul is a super fine ancient clay that comes from deep below the Atlas Mountains in Morocco. Although it is difficult to obtain from the deep clay beds, it has been used for centuries by the ancient people of Rome and Egypt.
Rhassoul is a highly absorbent clay, particularly rich in minerals such as Silica, Magnesium, Iron, Calcium, Potassium and Sodium. It improves skin clarity, removes dead layers, smooths texture and improves elasticity.
It also helps detoxify the skin and scalp while it exfoliates gently. Rhassoul clay is used by the finest spas around the world. It is appropriate for all skins types especially sensitive or mature.
Ingredients: Organic & Pure Morrocan Rhassoul Clay
Note: It is important to keep contents dry at all times. Always use a dry spoon to scoop out the clay.
Directions:
FACE MASK: 2 teaspoons clay, 2 tablespoons warm water/ milk/ hydrosol. Mix ingredients briskly to make a smooth runny paste. Apply to clean face and neck, making sure to avoid the eye area. Leave on for 10 to 15 minutes until dry. Rinse with warm water. Pat skin dry.
FOR BODY OR HAIR: Mix 2 tablespoons of clay with water/ yoghurt/ honey and add a few drops of Healthy Hair Oil or your favorite oil. Rinse hair/ skin with water and massage into scalp/skin. Leave on for 15 minutes and rinse off throughly with water. When used for hair and scalp, do not let the mud paste dry as it might cause breakage.
Disclaimer: We firmly believe that the basis of healthy skin has more to do with what we eat, think, feel and do! When we put in the effort to consciously eat healthy, live healthy, think healthy & feel healthy, our skin becomes effortlessly radiant and beautiful!
Our skin is an amazingly complicated and complex organ, and together with its healthy & balanced microbiome, is independently able to keep itself healthy and balanced in most circumstances. Thus, as long as we are doing our part in our health department, our externally applied skincare should be minimal, fresh and most importantly, minimize harm to and support our skin and its microbiome as much as possible.
At K.I.S Elemental, we are proud to say that this forms the basis of all our skincare products and formulations!
Customer comments
| Author/Date | Rating | Comment |
| --- | --- | --- |
---