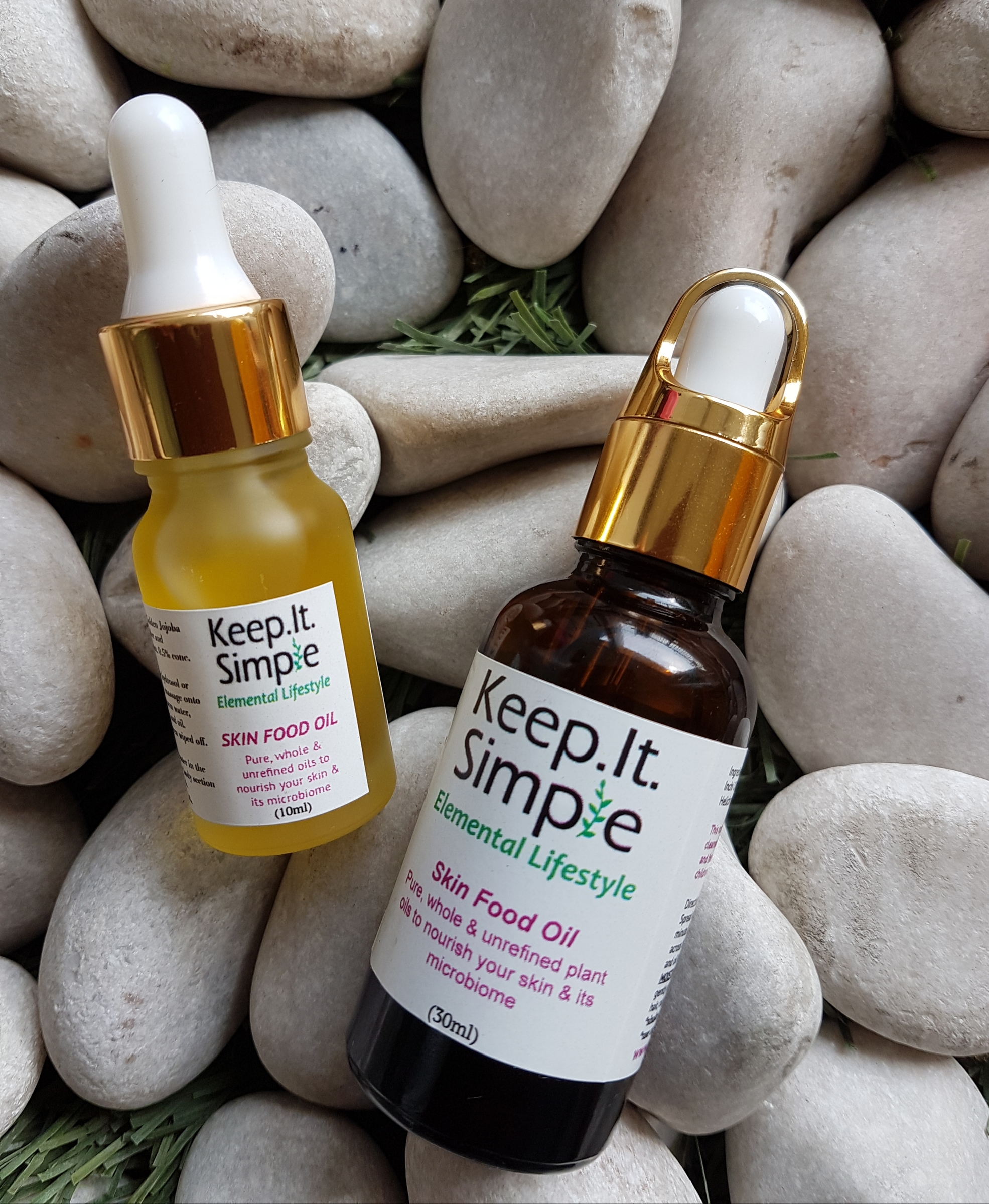 Skin Food Oil (30ml/ 10ml)
This non-pore clogging herbal oil blend is calming and soothing and is the perfect multi-purpose oil to cleanse away make-up or for a gentle deep pore cleansing, leaving your skin refreshed, smooth and glowing!
It also makes a great face, body and hair moisturizer that will nourish and support a healthy skin microbiome.
This oil can also be used to help speed up the healing process of minor wounds and burns, and also to reduce itchiness or rashes due to skin or food sensitivities. It's gentle enough for kids and pregnant women too!
This luxurious oil blend is made of pure, whole and unrefined plant oils of Organic Jojoba, Organic Sacha Inchi and Organic Avocafo infused in Frankincense resin and French Lavender & Calendula flowers for a minimum of 2 weeks. Pure essential oils of Rose, Helichrysum and Blue Tansy are added at a low concentration of 0.5% to ensure effectiveness with no risk of irritation.
Here at K.I.S Elemental, we prefer to mimic nature equivalent concentrations of natural plant extracts because we believe that nature has the ultimate and complete knowledge when it comes to healing and maintaining good health, including skin health. Plant essential oils usually occur at low concentrations of below 1%, which is why we truly believe in the less is more approach.
Moreover, the safety level for topical use on the face is a maximum of 1%. Skin Food Oil's 0.5% total essential oil concentration makes it safe for use for pregnant women, and children aged 2 years and above.
And don't forget that this oil has been time infused with Frankincense, French Lavender and Calendula flowers, contributing to its herbal and calming aroma and healing and soothing properties!
Directions: Use sparingly. A little goes a long way!
Cleansing: Spray some hydrosol or mineral water on your face and gently massage 4 - 7 drops of oil onto face and neck and leave for 30 secs. Rinse a soft face cloth or sea sponge in comfortably warm water, squeezing out excess water so that it is not dripping, and gently wipe across the face from the centre outwards. Rinse in warm water again and repeat the process 2 or 3 more times until all traces of make-up and oil have been removed. Follow up with a cold water rinse to calm the skin down, and pat skin dry.
Moisturize: For face, combine 1 -2 (not more!) drops of oil with some hydrosol or mineral water in the palms of your hand and gently pat into face and neck. For body, apply a few drops per body section on wet skin, right after your shower. For hair, rub in a few drops on hair ends.
Note: Always do a skin patch test before first time use.
Ingredients: Organic Golden Jojoba Oil, Organic Sacha Inchi Oil, Organic Avocado Oil, French Lavender, Calendula and pure essential oils of Rose, Helichrysum and Blue Tansy.
Disclaimer: We firmly believe that the basis of healthy skin has more to do with what we eat, think, feel and do! When we put in the effort to consciously eat healthy, live healthy, think healthy & feel healthy, our skin becomes effortlessly radiant and beautiful!
Our skin is an amazingly complicated and complex organ, and together with its healthy & balanced microbiome, is independently able to keep itself healthy and balanced in most circumstances. Thus, as long as we are doing our part in our health department, our externally applied skincare should be minimal, fresh and most importantly, minimize harm to and support our skin and its microbiome as much as possible.
At K.I.S Elemental, we are proud to say that this forms the basis of all our skincare products and formulations!
Customer comments
| Author/Date | Rating | Comment |
| --- | --- | --- |
---