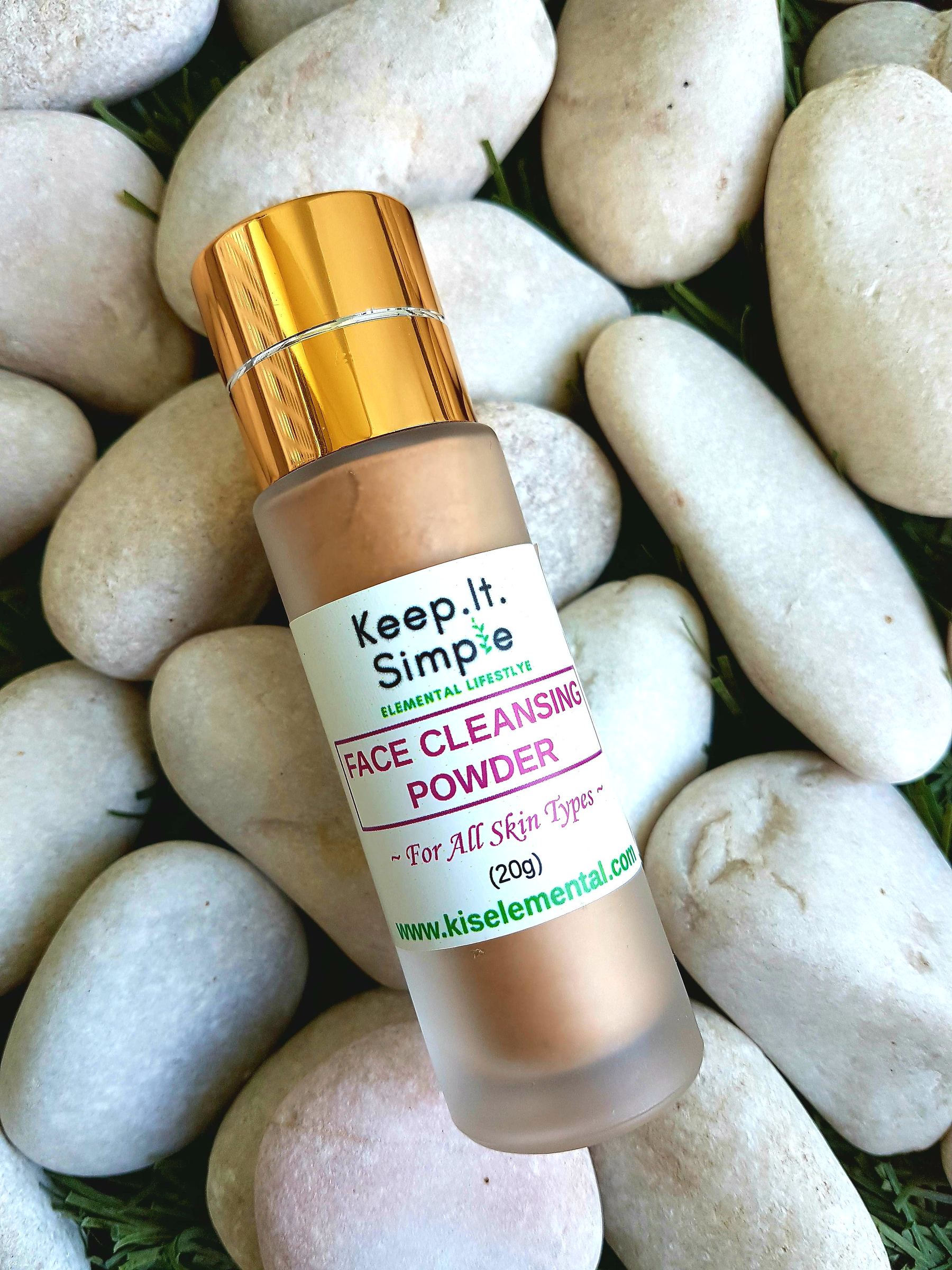 Face Cleansing Powder (20g)
A power packed all natural blend of emolients, minerals, anti-oxidants, enzymes, anti-bacterial and anti-aging ingredients sourced from the elements. Naturally scented with organic Lavender essential oil. This makes it perfect for all skin types to achieve the ideal balanced state of healthy skin.
Application: Wet face with clean water. Carefully pour out a tiny amount of powder onto clean fingers, mix with water or hydrosol and gently massage into face and neck area. Wash off with water. Can also be left on for up to 15 mins before washing off for deeper cleansing and moisturizing, about 1 - 2 times a week. Follow up with hydrosol toner and face oil if necessary. With daily use, this bottle is enough to last for 1 - 2 months.
Tip: This cleansing powder makes a great lip scrub as well! Just gently scrub over your lips whenever you cleanse your face... it's that simple!
Ingredients: Pure Australian Red clay, Pure Australian Ivory clay, Pure Australian Olive clay, Organic Brown Rice powder, Organic Oats powder, Natural New Zealand Yoghurt powder, Organic Almond powder, Organic Tumeric Powder, Organic Papaya enzyme, Natural Lime powder, Organic Lavender Essential Oil.
(Any clumping is normal and does not affect the effectiveness of the product at all.)
Note: Because our products are made from pure natural ingredients with no or minimal preservatives, do use them up within 3-6 months from opening. Store in a cool, dry place away from direct sunlight. Keep contents dry. If you plan to use or keep the products for longer than the recommended time, just keep them in the fridge and they should be fresh for up to a year.
Disclaimer: We firmly believe that the basis of healthy skin has more to do with what we eat, think, feel and do! When we put in the effort to consciously eat healthy, live healthy, think healthy & feel healthy, our skin becomes effortlessly radiant and beautiful!
Our skin is an amazingly complicated and complex organ, and together with its healthy & balanced microbiome, is independently able to keep itself healthy and balanced in most circumstances. Thus, as long as we are doing our part in our health department, our externally applied skincare should be minimal, fresh and most importantly, minimize harm to and support our skin and its microbiome as much as possible.
At K.I.S Elemental, we are proud to say that this forms the basis of all our skincare products and formulations!
More Info:
Organic Papaya Enzyme
It is excellent for balancing the oiliness of the skin & working as an exfoliant on dry areas. Papaya also is often used in skin care products to give a rejuvenated look to the skin. Papaya contains Vitamin A, which helps to reveal the next layer of the skin and exposes a radiant complexion. Vitamin C is also an antioxidant with wonderful qualities that helps to smooth and soften the skin.
Organic Oats
Oat flour contains saponins, which have cleansing properties that remove dirt and oil and the proteins in oatmeal help in maintaining the skin's natural barrier and protect your skin from harsh chemicals. The lubricating fats in oats are a great moisturizer that provides a protective layer over the skin to fight UV rays.
Organic brown rice
Rice powder has exfoliating properties, and can help make the skin look brighter.
Australian Organic Clays - rich in many essential minerals including magnesium, calcium, copper, iron and potassium.
Natural lime powder
A natural astringent to help clear excess oil.
Natural yoghurt powder
Vitamin rich, contains natural AHAs (aplha hydroxy acids), the highest in all milk derived products. AHAs are attributed to promoting smoother, younger looking skin by increasing the rate of cell renewal, thereby rejuvenating the skin.
Organic almond powder
Almond powder smooths and softens the skin, reduces inflammation and aids in the removal of dead skin cells.
Organic tumeric powder
Organic Turmeric root powder is effective in the treatment of acne due to its antiseptic and antibacterial properties which fight pimples and breakouts to provide a youthful glow to your skin. Turmeric not only helps to clear acne scars and inflammation but also reduces oil secretion by sebaceous glands.
Organic Lavender essential oil : Rich in antioxidants, antimicrobial, reduces the appearance of dark spots.
Customer comments
| Author/Date | Rating | Comment |
| --- | --- | --- |
---